Delivering the Best Mayan Ruins Excursions Experience for Tulum and Cozumel
We are specialists in the Mayan culture and would love to share our passion for this civilization by taking you to the most reputed Mayan sites in the Mexican State of Quintana Roo.
WE INVITE YOU TO JOIN US ON AN ADVENTURE IN CULTURE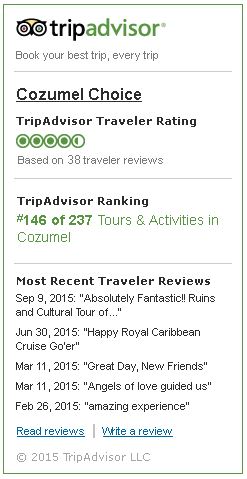 We are excited to invite you to plunge in the Mayan culture with our expert guides who have extensive knowledge of the Mayan civilization.
For over 25 years, we have proudly been guiding cruise-ship and local hotel clients to the Mayan sites and our reputation keeps growing based on:
Exquisite punctuality, as we know your time is important,
Small groups, limited to 12 people for individualized attention,
Professional guides, equipped with knowledge and passion for the authentic Mayan world, and
Our personal involvement in consistently delivering the highest customer experience.
The Cozumel Choice offers you a private tour touch at a non-private price. Instead of spending hours in a crowded bus with 60 of your shipmates.  Why not enjoying a small, fully-escorted tour of Tulum, discover the Tulum ruins from the sea as the Spanish conquerors first found them, explore the highlights of Cozumel or swim with turtles in the Akumal bay?
Check out our tours and book your trip with us today!